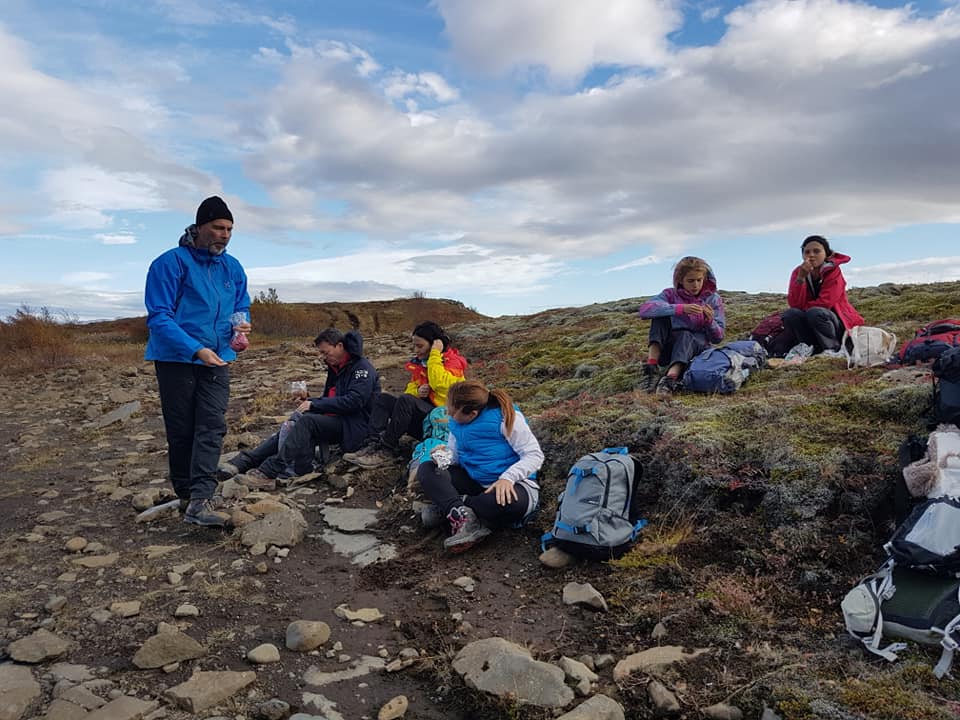 The third short term learning activity for groups of pupils took place in Iceland 22-26 September 2019. The activity was attended by 16 students from the partner schools accompanied by 10 teachers, in addition to the host students and teachers of the host school.
The activities of the program included orientation activities in Reykjavík, using the wikiloc application. Among subjects addressed were cultural landmarks, sculpture, history and recreation in Reykjavík. The program included three days outside of Reykjavík, with excursions and hiking tours with emphasis on geology, natural diversity, exploitation and conservation of cultural and natural heritage. Thus, there was a hike between two power plants on a high temperature area along the central volcano Hengill, ending with a guided visit to the power plant Hellisheiðarvirkjun. The group stayed two nights in a country house in a geothermal area and did group work, observing hot springs and the biodiversity in the area, including bathing in a natural hot spring. On the last day, there was a hike along the so called Kingsroad, following in the footsteps of the danish king that visited Iceland in1908, while Iceland was still a part of the Danish crown. The group learned about the known Icelandic female activist that fought for the conservation of the famous waterfall Gullfoss, visited the Geysir area and finally the group was received by a ranger of the Þingvellir National Park, learning about the history of the ancient Parliament and the geology of the area.
The activities contributed to the project's objectives as they included independent work of students in group, a lot of physical activities and field learning of culture, history, nature, conservation and recording of observation. The activities contributed to social inclusion as the whole group was staying together in a country house, helping out with cooking and cleaning, playing, chatting, sharing food from their home etc. The activities were in line with the planning of the project.